Welcome…
The Santiago Iglesias Educational Society is an Affiliated Club of Local Union #3, International Brotherhood of Electrical Workers. Our goals are to develop an interest in Latinos living in New York, to further an understanding among each member and to aid them in their social, economic and educational development, to join together with other organizations having similar purposes and interests, and to urge the participation of Latinos in their political and social affairs by urging all to exercise the privileges of the right to register and the right to vote, to provide services for information and education regarding our community and to promote education; to protect those members from industrial and economic discrimination and to assist in the social betterment of our community.
Hello Brothers and Sisters,
The NYC LABOR DAY PARADE is TOMORROW, September 8th. We are asking all SIES members and their family's to come out and show everyone that NYC IS A UNION TOWN.
Assembly Location: West 47th street (between 5th and 6th ave)
Assembly Time: 11 a.m.
Support the club and purchase an SIES 2018 Labor Day T-Shirts
Thank you,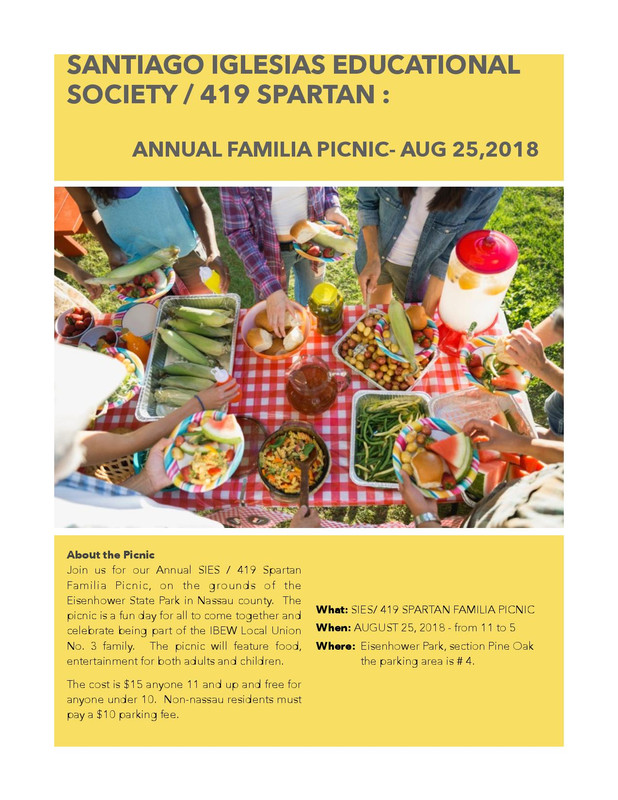 Mission Trip Fundraiser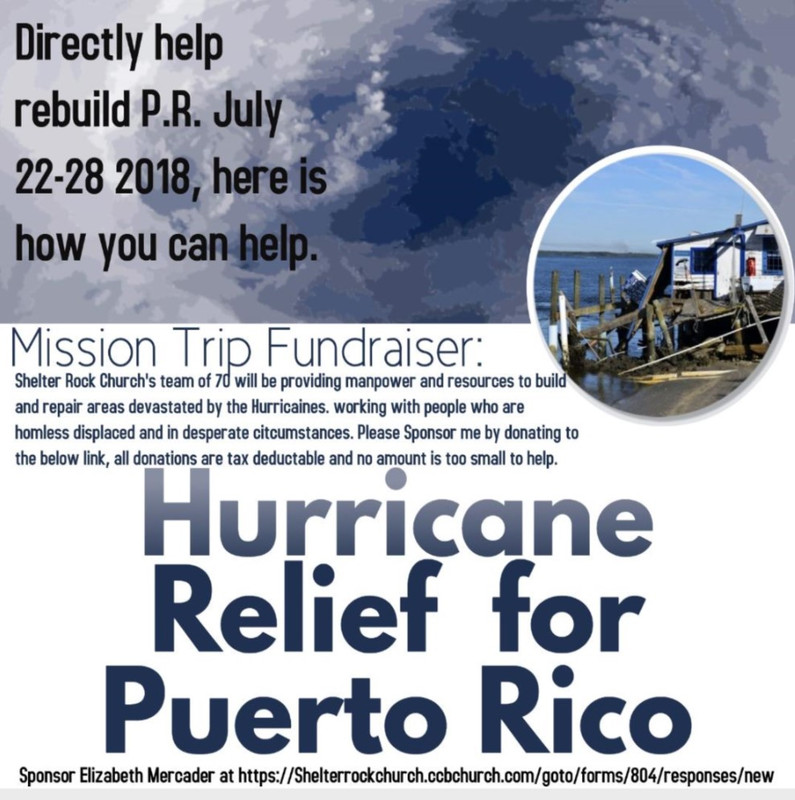 Dear Mr. Medina,
I hope this email finds you well.
I am writing in hopes to gain support and exposure to my upcoming missions trip to Puerto Rico to help serve the people and communities of Puerto Rico still affected by hurricane Maria.
My father was Rene Mercader Jr., he sadly passed away in 1992. During his time with us he was a very active member with Local Union #3 and with in the Santiago Iglesias Educational Society.
I am very proud of his legacy and carry him with me in all that I do, Including my years working as secretary to the Financial Secretary of LU # 3, until I left in 2009 to pursue my nursing career.
My family also contributed to Cosmo's kids camp in Bayberry Land by volunteering and donating books for the kids to take home with them. My Brother John is also a A Journeyman, very proud and dedicated to the union.
If possible, in honor of my father and his contributions to Local 3 and the Santiago Iglesias Society, would you please consider sharing the attached flier on your website to support my campaign for donations that will go directly to the mission trip and to the people of Puerto Rico?
Thank you so much for your time and consideration.
Please do not hesitate to contact me for any additional information.
God Bless.
Sincerely,
Elizabeth Mercader
718-216-1509
Click below to support this great cause.
Meeting Information
June 29, 2018
Hello Brothers, and Sisters, This month's meeting will be held Thursday, September 27th, 2018 in the Balcony Lounge of the Joint Industry Board. The meeting will begin at 5:00 p.m., Food, and beverages will be served. Business Representative Benjamin Arana will report on what is happening in our industry. President Gil Medina will give his monthly report. Up incoming Summer and Fall SIES Event:
SIES Familia Picnic will be held August 25th@ Eisenhower Park
3rd Annual Cosmo Soltren Basketball Event on August 4th, 2018
The SIES 60th Annual Dinner Dance will be held this October. If you are interested in attended the SIES Dinner Dance please reserve your tickets during this meeting.
The 2018 Annual Club Dues are due. This year the annual fee will remain at $30. Please make checks and money order payable to Santiago Iglesias Educational Society. For further information, please see Erland Castillo.
Thank you for your support,
Gil Medina